FREE Muscle Building Program
Gain Muscle, Burn Fat
And Increase Strength!
Enter your first name and a valid email address
for free instant access to these muscle building workouts.

Andro Supplement for Bodybuilding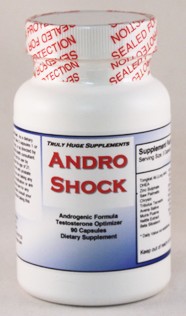 If you are looking for safe and effective ways to pump up your testosterone to optimal levels, getting a boost to your energy levels that allows you to do more reps and have greater stamina, you need a product like Andro-Shock. Andro-Shock is an androgenic supplement that will enhance your body's production of testosterone. If you are a serious athlete, a weight lifter, or a bodybuilder, you need to get the most out of your workouts and push yourself to the limit.
Andro-Shock: A Safe Supplement for Optimal Performance
Andro-Shock can help you to reach your goals in a safe way that steers clear of steroids and illegal substances. Not only will the use of such unfavorable alternatives get you in trouble with the law, you will be disqualified from competition, and you could wreck your health. You want to be built and go the extra mile, but you want to do it on your own, not through artificial methods. Don't discredit your hard work. Try Andro-Shock and see what a difference it can make in your workout regimen. When you include this androgenic supplement as one component that is part of a balanced diet and intense workout plan, you can get closer to the body that you have been striving for each time that you hit the gym.
Why Does Andro-Shock Work?
Andro-Shock is an effective supplement because of the carefully selected combination of ingredients. While each component of Andro-Shock is beneficial in some way, they become incredibly effective when they merge together. Andro-Shock is primarily based on natural ingredients, including DHEA, Chrysin, Saw Palmetto, Tongkat Ali, Nettle Extract, Zinc Sulphate, Tribulus Terrestris, Avena Sativa, Muira Puma and Betasistosterol. It is intended to be taken once or twice a day, three capsules per dose, unless otherwise specified by a health professional.
What are Additional Benefits of Using Andro-Shock?
Andro-Shock is intended to improve the production of testosterone, a vital hormone in the male anatomy. Testosterone is vital to provide men with a feeling of strength and vitality. It also effects sexual libido. With aging, testosterone begins to drop. For some men, low testosterone levels can even be a problem at a young age. A feeling of fatigue and weakness is a common symptom, as well as a lack of sexual desire. Men that use Andro-Shock can experience noticeable improvements on many levels. Renewed levels of strength and energy are common, as well as an improved love life due to a return of sex drive. While any man would welcome these beneficial effects of this androgenic supplement, it is definitely a positive for the athlete who wants to improve performance without turning to destructive measures.
Andro-Shock: The Easy Alternative
Andro-Shock is simple to purchase, available in an over-the-counter capsule form. It is extremely powerful as a testosterone booster and really packs a punch. This is a natural product, it is considered safe, and it is completely legal, all good arguments to give it a try. Steroids can actually cause permanent damage, causing the male body to produce less testosterone with chronic use. However, Andro-Shock is will do no harm when used as directed.
Who Cannot Use Andro-Shock?
Andro-Shock should only be used for training enhancement for men over the age of twenty-one. Men who are suffering from prostate cancer should not use Andro-Shock as it could actually aggravate their condition. Anyone with a pre-existing medical condition, an illness, or taking prescription medication is recommended to seek the professional opinion of a physician before using Andro-Shock.
It's Time to Give Andro-Shock a Try
If you're working hard to get the body you desire and need something to accelerate your efforts, you need to try Andro-Shock. When used properly and combined with an intense weight training routine and the proper nutrition, you will see the difference that you a have wanted. Get the most that your body has to give as your muscle mass increases, you trim the fat with a better metabolic rate, your stamina keeps you running on a full tank, and your body can make the grade on any test that you can give it. Andro-Shock is the effective supplement for you if you're serious about molding a new you.
Buy Andro Shock Natural Testosterone Booster Supplement
90 Capsules (A One Month Supply)
For Only $69.95 Plus $5.00 S&H

To order by phone call:
1-800-635-8970
10 am to 6 pm PST


Disclaimer: These products are not intended to diagnose, treat, cure or prevent any disease. These statements have not been evaluated by the Food and Drug Administration. Consult with a physician prior to use. For best results use in conjunction with a well balanced diet and intense weight training. Any claims made regarding benefits are based on the subjective results of users reported in non controlled conditions. Individual results may vary.