FREE Muscle Building Program
Gain Muscle, Burn Fat
And Increase Strength!
Enter your first name and a valid email address
for free instant access to these muscle building workouts.

Ephedra Free Fat Burning Supplement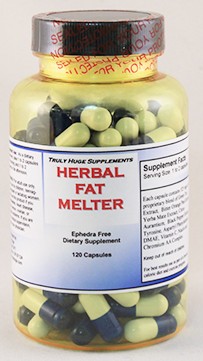 With the all-new Herbal Fat Burner, you can turn up the heat to help your body melt away unwanted, excess fat. This new fat burner dietary supplement helps you burn calories quick, fast and easy, without the adverse effects of Ephedra. This is great news because the negative effects of Ephedra have been known to raise blood pressure and stress the heart. If you are serious about the safety of your health, plus the need to lose weight, you need a product that is safe, effective and proven to work.
What Sets Herbal Fat Burner Apart?
Many fat burning products come at the cost of health risks and loosing muscle mass. With the influx and overabundance of weight loss supplements on the market, it is good to know that there is a fat burning product that is effective, reliable and dependable. It works with your body to turn it into a fat burning furnace.
With Herbal Fat Burner, you lose the fat, not muscle tissue. Compared to other products designed to burn fat, natural herbs are more effective. This is what sets Herbal Fat Burner apart from all the rest.
What's In Herbal Melter?
The New Herbal Fat Burner contains the following all-natural ingredients:
675 mg of blended Green Tea Extract (epigallocatechin, polyphemols and caffeine)
Bitter Orange Peel Extract (hordenine, n-methyltyramine, tyramine and octopamine)
Yerba Mate Extracts (methylxanthines and caffeine)
Citrus Aurantium Fruit Extract, (tyramine and synephrine)
Black Pepper
Tyrosine
Aspartyl-phenylalanine
Vitamin C
Chromium
Amino Acid Chelate
How Herbal Fat Burner Works
Upon entering your body, the supplement works to:
Burn unwanted fat

Speed up your metabolic rate to increase weight loss

Increase your energy level

Turn carbs into much-needed energy, as opposed to fat

Serve as an appetite suppressant

Retain muscle tissue
Safe Use of Herbal Fat Burner
This fat burning supplement is recommended for Adults Only, to assist with weight loss. Suggested serving is one (1) to two (2) capsules every morning and one (1) to two (2) capsules every afternoon as a dietary supplement.
As with most weight loss efforts, to experience the best results, include a routine exercise program and a low calorie diet.
Special Bonus Offer for a Limited Time
Order now to get your FREE bonuses while supplies last. You will get TWO bonuses, for a total value of $40.00.
1st. Free Bonus – Fat Loss Guide This is a simple step-by-step fat loss instruction guide that is easy to follow and use. Included is a daily plan to help track your fat burning progress. This lets you know if it is the maximum amount possible.

2nd. Free Bonus – Fat Loss Food Chart This guide to your food intake and nutritional values will help to make your everyday meal preparations simple and easy. Its durable and hand-folding quality makes it convenient for everyday use.
Ordering is confidential, quick and simple. Get Herbal Fat Melter 120 Capsules and begin to experience its proven effects right away!
Buy Herbal Fat Burner Supplement
120 Capsules
For Only $29.95 plus $8.00

To order by phone call:
1-800-635-8970
10 am to 6 pm PST


Disclaimer: These products are not intended to diagnose, treat, cure or prevent any disease. These statements have not been evaluated by the Food and Drug Administration. Consult with a physician prior to use. For best results use in conjunction with a well balanced diet and intense weight training. Any claims made regarding benefits are based on the subjective results of users reported in non controlled conditions. Individual results may vary.